---
---
Do you like the beach, but can't take the unpleasant feeling of wet sand?

 



This Magic Beachmat is for you!
Here is one of the most practical inventions of the year: The Anti-Sand Magic Beach Mat. It will allow you to finally enjoy the beach without having sand everywhere on your towel, in your bag, in your sandwich, or on your body (especially after putting sunscreen: hello nightmare! 😱).       
Everyone knows the unpleasant feeling of sticky and wet sand. Well, thanks to the  Magical Anti-Sand Beach Mat, you can and finally, enjoy the beach in all serenity!      


How Does It Work?
this Anti-Sand Magic Beach Mat (which was first developed for military use), the mat uses of  2 layers of polyester.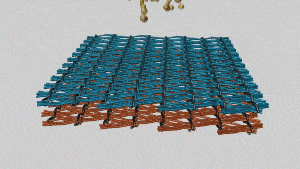 These layers of polyester allow sand and dust to cross from side to side of the  Anti-Sand Magic Beach Mat, ensuring a  sand-free surface on the top.      
On this principle, the sand that accumulates on the upper surface of the carpet will disappear before your eyes  (like a magic trick!). In an instant, you can create a  protected area of sand, in which you can finally relax. If a large amount of sand accumulates on the Anti-Sand Magic Beach Mat, all you have to do is rub the sand against the carpet and watch it disappear.
The Anti-Sand Magic Beach Mat is composed of a polyester mesh weave: it is not a towel, but a beach mat! That is why it is recommended to install your usual towel over it so to benefit from a  maximum of comfort. In this way, you are making sure sand does not get on your towel.
IS IT JUST FOR THE BEACH?
Of course not! In addition to its anti-sand properties, this beach mat can be used in many other occasions. Composed of a soft material such as polyester, it is easy to clean, it dries very quickly and will resist all glasses spilled during the summer. No need to machine it, wash it with large water using a simple hose and that's it!      
Bring him to the beach, to the campsite or when you go on a picnic with your family or friends. The metal rings placed at the four corners of the Carpet will even allow you to use it as a shade, as a breeze or as a barrier against the wind.        
✔  No more sticky sand  on your beach towel
✔  Large, compact, practical: essential for beach holidays
✔  Superior quality: made of 100% woven polyester
✔  Multi-use: use it on the beach, camping, picnic...
✔  Easy to wash  and fast drying
Click on the ADD TO CART button to order yours now. 

Do not wait until the summer season arrives and we are out of stock on this product!
🔥 Produced in very high demand 🔥 
Allow between 14 and 24 days for delivery 
---
Nice clean area in second!
Although I haven't had much time to really get it to use this I have laid it out a few places and it's just what you need! The waterproof material is spot on! It creates that barrier you need to keep your stuff dry from grounds saturation. It is big enough for your camping needs and offers a variety of different applications from protecting from bugs to just keeping things dry and clean! I would recommend this for sure!